Calendar
OCEA's calendar of events includes information about seminars and programs available exclusively to OCEA members, as well as union meetings and community gatherings where members can get involved.
PRINTABLE 2018 COUNTY CALENDAR
SSA—Clerical Appreciation Lunch
April 26, 2018 | 11:30 a.m.–1 p.m. | 744 N. Eckhoff St., Orange
Hot Dogger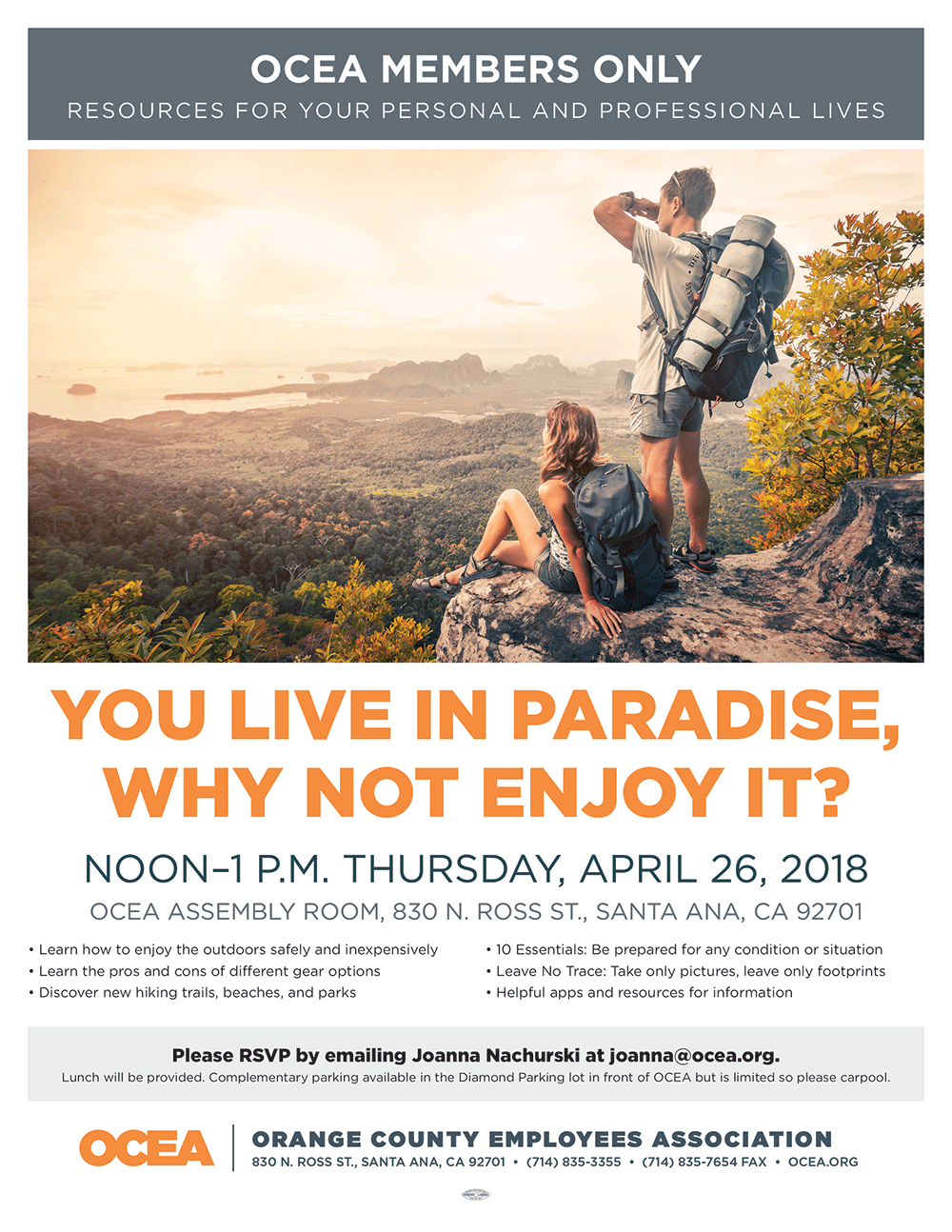 OCEA Members Only: You live in paradise, why not enjoy it?
April 26, 2018 | Noon–1 p.m. | OCEA Assembly Room, 830 N. Ross St., Santa Ana, CA 92701
Learn to enjoy the outdoors safely and inexpensively.
VIEW FLIER
OC Public Works
May 1, 2018 | 11:30 a.m.–1 p.m. | 1102 E. Fruit St., Santa Ana
Hot Dogger
HCA—Anaheim
May 3, 2018 | 11:30 a.m.–1 p.m. | 2035 E. Ball Rd., Anaheim
Hot Dogger
OCEA Steward Meeting
May 8, 2018 | Noon–1 p.m. and 5:30–6:30 p.m. | OCEA Assembly Room, 830 N. Ross St., Santa Ana, CA 92701
Monthly Steward meeting
OCCR–ROV–HCA
May 10, 2018 | 11:30 a.m.–1 p.m. | 1300 S. Grand Ave., Santa Ana
Hot Dogger
OCEA Political Action Committee Meeting
May 14, 2018 | 5:30 p.m. | OCEA Assembly Room, 830 N. Ross St., Santa Ana, CA 92701
Monthly meeting
City of Irvine—City Hall
May 15, 2018 | 11:30 a.m.–1 p.m. | 1 Civic Center Plaza, Irvine
Hot Dogger
OCEA H&W Trust Board Meeting
May 15, 2018 | Noon | OCEA, 830 N. Ross St., Santa Ana, CA 92701
Monthly Health & Welfare Trust Board meeting
OCEA Board Meeting
May 15, 2018 | 3 p.m. | OCEA Assembly Room, 830 N. Ross St., Santa Ana, CA 92701
Monthly Board meeting